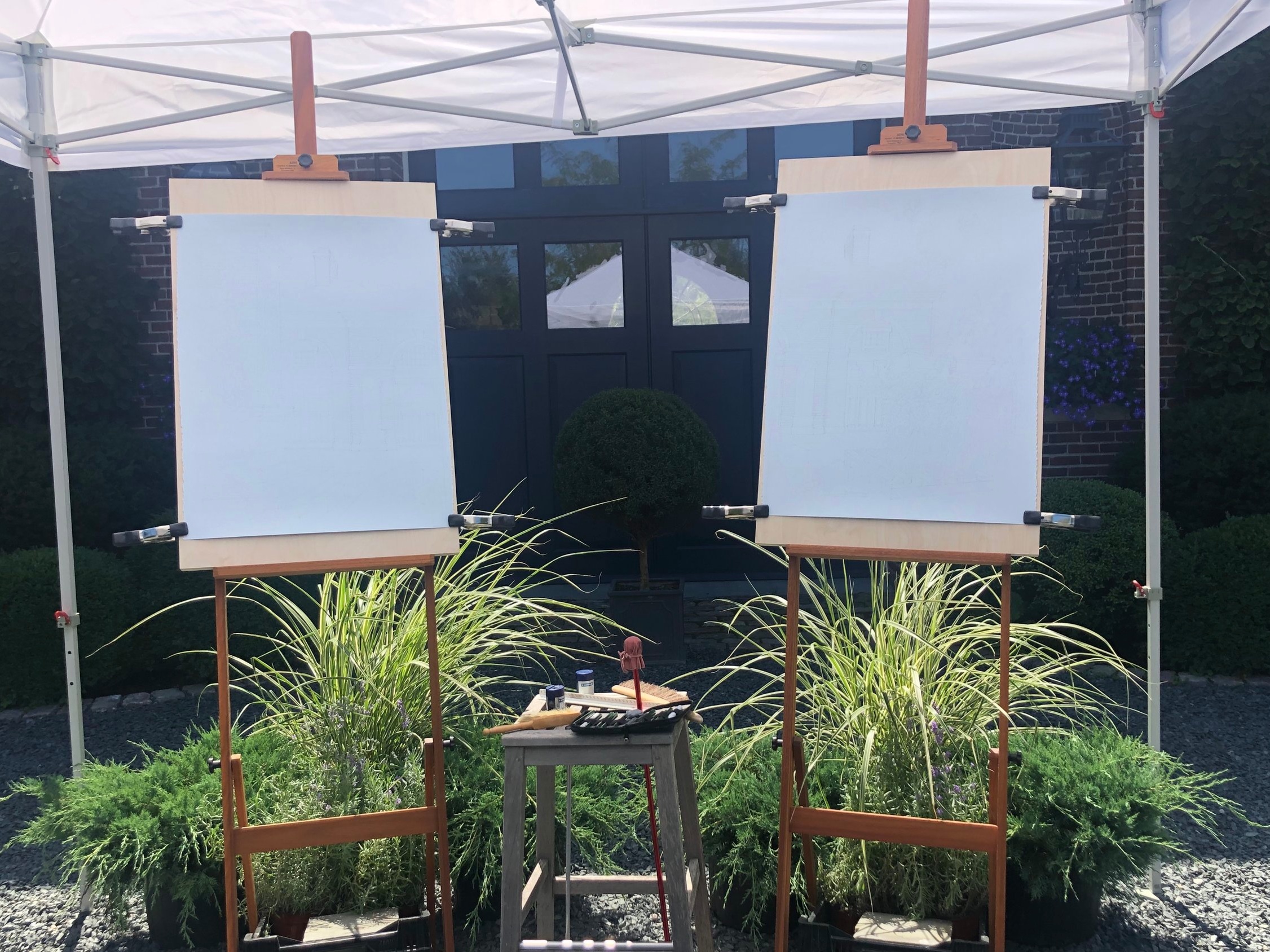 Human cognition is deeply rooted in our connection to nature. The evolution of hand drawing provided humans with a means to capture and preserve their environment, with the result being a tangible understanding of their perception of the world around them. Scenographia at Craig Bergmann celebrated the human relationship to nature through a marathon live-drawing event at Craig Bergmann's gardens. Architects Matt McNicholas and Tom Rajkovich will completed an original composition inspired by the beauty of nature in front of a live audience. Attendees were encouraged to participate in the celebration of hand drawing by bringing their sketchbooks and favorite drawing medium to preserve their own interpretation of the gardens. The incorporation of both the artists and the audience as equal participants in the creation was intended to foster appreciation for the experiential, originative, and artistic nature of hand-drawing and encourage the continued practice of this universal human endeavor in an increasingly digital world.
Matt is a founding partner at the Chicago-based MGLM Architects. He earned his Bachelor's and Master's degrees from the University of Notre Dame and holds an Executive Certificate in Neuroscience for Architecture from the New School of Architecture and Design. He currently serves on the Board of Directors and chairs the Facilities Committees for the Auditorium Theatre and Fenwick High School respectively. He sits on the Education Committee for the Chicago-Midwest Chapter of the Institute of Classical Architecture & Art, produces opinions in architectural copyright litigation, lectures on architectural ornament, and, in his free time, plays on a Master's water polo team and goofs off with his 4-year-old.
Recognized as a preeminent classical architect and urban designer, Thomas Rajkovich leads a practice on Chicago's North Shore. He graduated magna cum laude from the University of Notre Dame in 1983 as the Henry Adams scholar and subsequently returned to study in the Eternal City as an Affiliated Fellow of the American Academy in Rome. In partnership with David T. Mayernik, he won the international competition for the Completion of the Capitol Grounds in Saint Paul, Minnesota in 1986 and was selected for an Arthur Ross Award in Architecture from Classical America in 1987. He was named to his generation's Forty Under Forty recognition by a jury chaired by Robert A. M. Stern in 1995, and has been the recipient of multiple Acanthus Awards from the Midwest Chapter of the Institute of Classical Architecture and Art.